The 2nd stage in the Genghis Khan MTB Adventure saw a fantastic performance by Hu Hao, who came from behind to outsprint two breakaway companions at Yurt City. Tugulduur Tuulkhangai suffered a crank problem, but managed to limit the damage and remains in yellow.
Absolutely perfect conditions today in Xiwuqi for the 43km long second stage. The climb to Nadamu Hill was the signal for yellow jersey Tuulkhangai, last year's champion Myagmarsuren Basaankhuu and Baterdene Narankhuu to attack and open up a small gap to riders such as Hu Hao, Evgeni Vitmanovskii and Bernhard Uhl. The gap between the two small groups would stay small for a few kilometers until a crank problem dropped Tuulkhangai back. His two compatriots continued their effort and seemed to be deciding the stage victory among the two of them, until Hu Hao suddenly accelerated in the immediate background and managed to bridge the gap to the two leaders with 8km to go. From then on, nobody got away and in a strong sprint Hu Hao was able to beat Basaankhuu a and repeat his stage win of last year. While Naraankhuu came third, Tuulkhangai beat Vitmanovskii for fourth place and retained his leadership in the overall ranking.
In the KOG competition, Charlie Epperson kept green, but will still face a stern challenge from Piers Touzel and Wang Lidong in tomorrow's long third stage.
Also the women's race concluded in a sprint. Chiara Eberle was just a tick faster than Solongo Tserenlham. Wang Xueli again was able to hold off Bitbit Baby Marites for third place.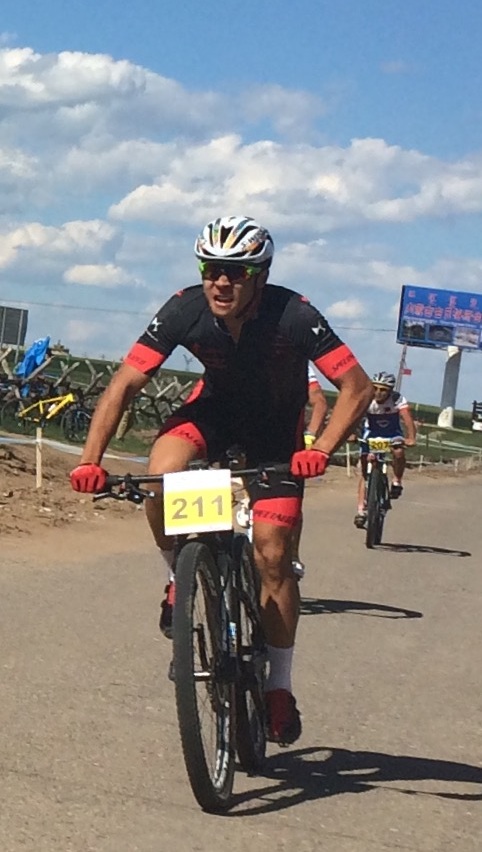 Hu Hao outsprints Baasankhuu to win stage 2 at Yurt City for the second year in a row